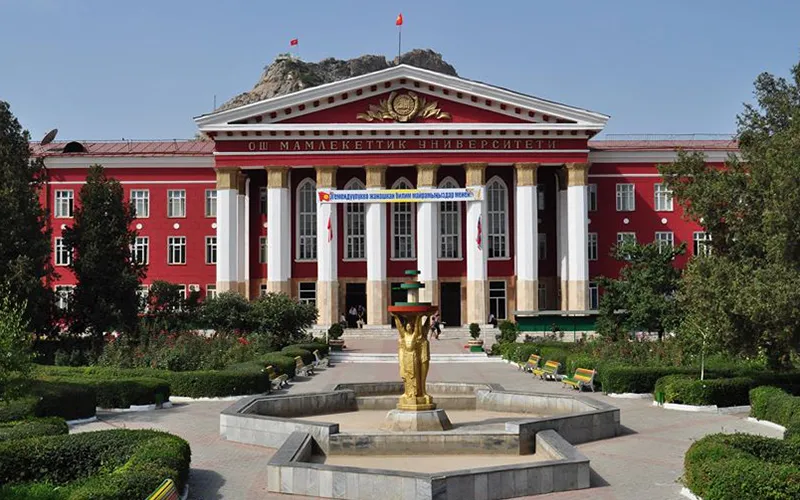 Osh State University was founded on 24 May 1951 as Osh State Pedagogical Institute. It achieved status of the University on 17 june 1992. The city of Osh provides a unique setting for the urban campus of Osh State University. At the heart of this picturesque city lies the Osh State University administrative campus, with the remaining departments located throughout the city. Osh State University is the leading educational, cultural and scientific centre of the southern Kyrgyzstan. The faculties of the University prepare specialists to respond to all the region's needs. Osh State University sows the seeds of science and democracy that will bloom throughout the country.
Osh Pedagogical Institute (1939-1951)
In 1939, in the south of Kyrgyzstan in order to overcome the lack of teachers in schools and pedagogical training, Institute for teachers in the city of Osh was opened. The Institute offered 2 years training programme in History and Philology, Physics, Mathematics and Natural sciences, Geography.
Osh State Pedagogical Institute (1951-1992)
On May 24, 1951, in accordance with the resolution of the Council of Ministers of the USSR, №511-193 / 1 June 26, 1951, Osh State Pedagogical Institute as established.
In 1955-1956 academic year, First batch of students graduated from departments of German, Russian, English language, Mathematics, Physics, Chemistry, Biology and Specialty care.
In 1957 the Council of Ministers of the Republic of Kirghizia adopted a resolution" On improvement of the material base for Osh State Pedagogical Institute. On the basis of this resolution, in 1961, New campus as built.
Number of graduates increased year by year from Osh State Pedagogical Institute. In 1970-1971 academic year, 269 Graduates, Number of PhD had doubled to 112 from 16 ethnic nationalities.
At the end of the 1980s, the Institute's faculty staff as 435, including 4 doctors of Sciences, Professors, 136 Candidates of Science, Associate Professors and Senior lecturers, 295 Instructors.
Osh State University (1992 – Present)
To ensure the Socio-economic and cultural development in Southern Kyrgyzstan, On June 17, 1992 by the Decree of the President of the Kyrgyz Republic, Osh State University as established on the basis of Osh State Pedagogical Institute. Mr. Bakyt Zholchubekovich Beshimov as appointed Rector of Osh State University and He worked on this position till 1998.
To ensure rapid pace of development and the training of highly qualified specialists to meet the requirements of the labor market, New faculties and departments ere established: History and Law (1992), the Kyrgyz and Uzbek Philology (1992), Medicine (1993), Theology (1993), Business and Management (1996).